March 2019: World Wildlife Day celebrates life below water
On 20 December 2013, the United Nations General Assembly proclaimed 3 March, the day of adoption of the Convention on International Trade in Endangered Species of Wild Fauna and Flora (CITES), as World Wildlife Day to celebrate and raise awareness of the world's wild animals and plants. The UNGA resolution also designated the CITES Secretariat as the facilitator for the global observance of this special day for wildlife on the UN calendar. World Wildlife Day has now become the most important global annual event dedicated to wildlife.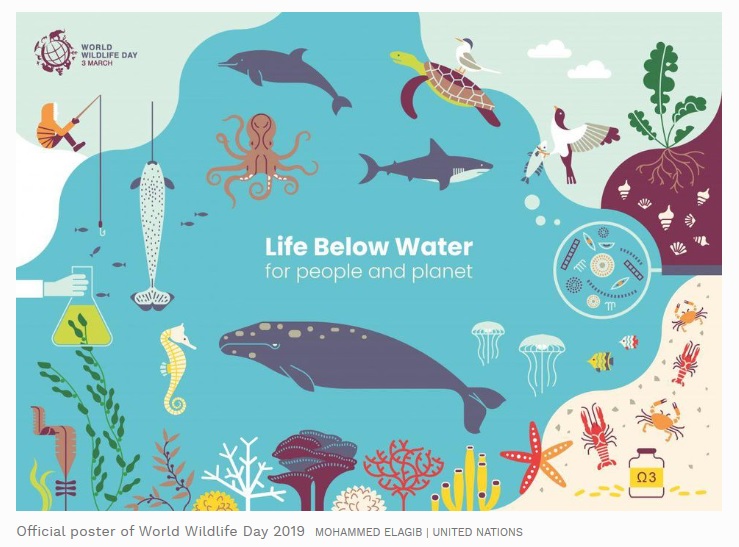 This year's World Wildlife Day theme is "Life Below Water: For people and planet," closely aligned with Sustainable Development Goal 14, with a focus on the conservation and sustainable use of marine wildlife. To mark the occasion, CITES, the UN Development Programme, UN Environment, other UN system organizations, Member States and civil society are unrolling a series of global and national events and social media activities around World Wildlife Day, including a high-level event in New York at UN Headquarters on 1 March. The UN is also collaborating with Jackson Hole WILD to organize a Living Oceans Film Showcase that galvanizes the power of media to help catalyzes change for marine species conservation. The winning films are being highlighted at the New York event. This is the first World Wildlife Day to focus on life below water. It is a great opportunity to raise awareness about the diversity of marine species, their critical importance to sustainable development, and how we can work together to ensure that oceans provide these services for future generations. More information on WWD 2019 is available at www.wildlifeday.org and @WildlifeDay on Twitter.
(Source www.wildlifeday.org)